With college graduations on the horizon our attention turns to helping young people in our midst master virtual presence for job interviews and beyond. Backgrounds, lighting and of course what you wear matters perhaps even more as your visual presence is front and center.
Whether you are interviewing for a job or are interested in increasing virtual presence in general, we hope these tips will empower you. Enjoy!
#1 Do a Background Check
A neutral, non-cluttered background helps others focus on you and what you have to say. Well-placed objects that represent your personal taste or industry can help tell your story if that is of interest to you. Consider using a virtual Zoom background (or portable room divider) if that makes you more comfortable. If your background is light, wear something dark or bright. If it is dark, wear whites or pastels. You want to avoid blending into the background and losing your on-camera clout.
#2 Light Up Your World
Having enough light in the room is important. Make sure your window or lamp is in front of you or to your side, not behind you. A small lamp on your desk can work wonders. If you don't have much natural light (which is still considered the best light to work with), consider professional grade lighting. It is easier to acquire than many realize. A fresh coat of wall paint in a color that frames both you and the room well can help you further stand out while boosting your skin tone too!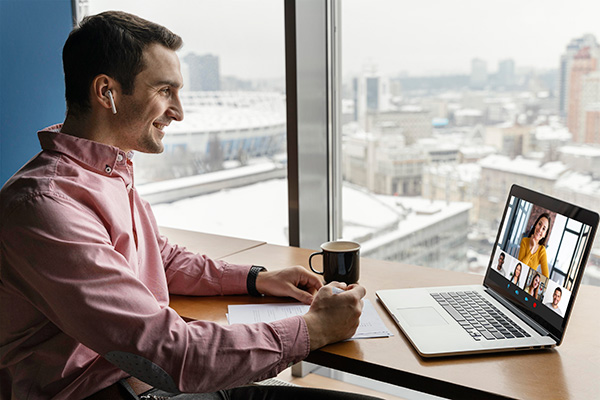 #3 The Eyes Have It
Place your camera at eye level so that your head and shoulders are centered on the screen. When necessary, place books underneath laptops (and pillows on chairs) until your eyes are at the same level as the camera. Position yourself so you are not too far away or too close to the screen. You will likely be sitting for a long time so settle yourself comfortably. You want to be looking into the camera when you are speaking and at the face of others when it's their turn. Resist the urge to look at yourself in the smaller frame in the corner of the screen.
#4 Dress to Match the Meeting
As the quality of video conference technology continues to improve, it really does feel like you are in the same room with others. Showing up appropriately dressed and groomed is important. Of course, if your video meeting is with colleagues, most do not expect formal attire on video calls, especially as many are being conducted from home offices. What you want to avoid is looking like you just rolled out of bed or off the treadmill and are not focused on the business at hand. If your call is more formal, follow suit. Assembling a few outfits ahead of time for different types of calls and having them at the ready can save time and energy while setting you up to succeed. When you are interviewing, your outfit should be just about the same level of formality that you would wear to an in-person interview. Company culture, industry and location mater. Do some research!
#5 Properly Dress from the Waist Up
If you pay attention to fit and fabric first, the rest of your outfit usually takes care of itself. Show respect for yourself and others by wearing well-cut business shirts, tops, sweaters and jackets even if you are wearing sweatpants and flip flops out of camera range. (Note to those interviewing or conducting important meetings: wear professional pants, period. Life happens and you don't want to get caught in your PJ bottoms! It also impacts mindset when you are properly attired head to toe.) Solid colored blazers, sweaters and other tops tend to frame people well on camera, allowing you to be the focus. Long-sleeve, short-short and, for women, sleeveless tops all have their place as long as they are presented professionally. Women, plunging necklines, tank tops and spaghetti straps give the impression that you are out of touch with business protocol. Wearing hats can send the same message. To keep you cooler and polished, choose natural fabrics that are not too casual and those that do not easily wrinkle. Bulky fabrics can add pounds and also appear too casual. If these are concerns, avoid them.
#6 Use Color and Patterns Effectively
Smaller patterns used as an accent with solid colored clothing are typically best. Bold patterns can work, especially if they are part of your regular style. Just make sure you're wearing them instead of having them wear you! The camera loves blues, greens, and also pinks, reds, corals, purples and browns. Black, white and pastels all have their place too when well- coordinated with your background and accessories such as ties, scarfs, jewelry and the like. Zippers on jackets, sweaters and tops are great on video as they create a strong, vertical line that naturally draws the eye of viewers to your command center – your face and eyes.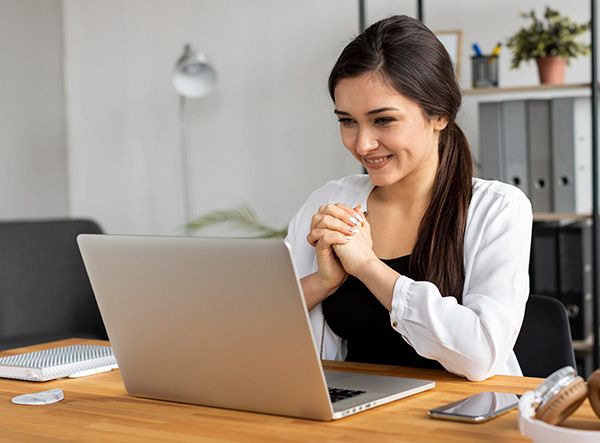 #7 Your Video Accessories
Many people use a variety of headsets and earbuds during calls for good reason—these devices eliminate outside noise. Consider that video chats without these devices (including wireless options) can lend themselves to a more natural and connected vibe, especially if you are presenting or interviewing. Eyeglasses are important too and worth the investment of time and money to get right as they are a key focal point on video. Women, avoid over-sized earrings that move around a lot when you speak. Likewise, jewelry such as stackable bracelets that make noise with hand movements are not great choices. Well-placed statement necklaces and earrings can add a lot of style when coordinated just right with the rest of your outfit and are a smart way to create many looks with fewer pieces of clothes. Scarfs can add flair too when coordinated well.
#8 Grooming Matters
Follow the same personal grooming routine as you would for an in-person meeting. Make it a practice to give yourself a few minutes before each call to check your appearance one more time before signing on. Keeping a brush or comb (and for women a lipstick and other basic makeup essentials) along with a small mirror at your desk can help. Makeup can significantly add polish and a finishing touch, even if you don't wear it daily.
#9 Actions Speak Louder Than Words
Finally, be mindful that 55% of all communication is visual and you can't hide on video! Facial expressions and what you do with your hands (and body) often speak louder than your words. Sit up straight. Avoid fidgeting. Don't play with your hair. Keep food (and any type of chewing!) out of camera range. Be on time. Smile. Be engaged. Be present. This is not the time to be multi-tasking, checking email or texting. Bottomline, be respectful and professional.
The Last Word
Once you get comfortable with video technology (and have your background, lighting and sound management figured out), you should be able to hop on and off calls with great ease. If you are presenting on an important call with others, discuss wardrobe as part of your group prep. Video conferencing is an effective tool for making strong first and lasting impressions. Don't miss the opportunity to make it work for you!