Mary Lou Andre's post a few weeks back about the power of red got me thinking. I love incorporating red into the wardrobes of my clients too. Red makes me think of energy, power and determination and totally punches up your look for the season.
Have fun adding red into your own wardrobe with the tips below!
Red Shoes, Belts & Bags
For women, red shoes are a fun way to bring sophistication to a navy outfit when they are the right shade, style and heel height for you. Adding a red belt or bag will connect your look. And there's nothing like finding a red designer handbag on the clearance rack for a client who wants to up their game without going too far into a total designer look (or pouring out the cash that is often needed to do so!)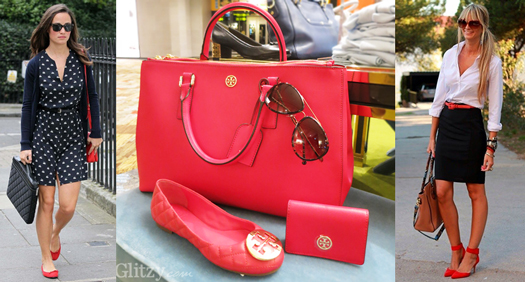 Real Men Wear Red
For our professional male clientele, a red tie in a pattern that resonates with their overall style is an easy pick as red is a power color and just works for business. I recently worked with a fellow who had fabulous dress shirts in need of some styling. One shirt had a slight red pinstripe. A navy blue V-neck sweater with the shirt was stunning. We also popped a navy tie in his wardrobe with a red sweater. On weekends, we decided he'd wear jeans to finish the look. For work, he puts gray slacks with the combo. Really nice!

Pack it Up!
With spring vacations to warm places on the calendars of some of our clients, I've already begun playing with summer clothes (yay!). A great strategy for effective packing is to load your suitcase with a variety of neural base pieces and then throw in a few pieces all in the same color family for easy accenting. You end up with lots of looks without having to pack a big bag. Red is one of my favorite ways to get this done. Even for myself, I scour sales racks for just the right amount of red year-round.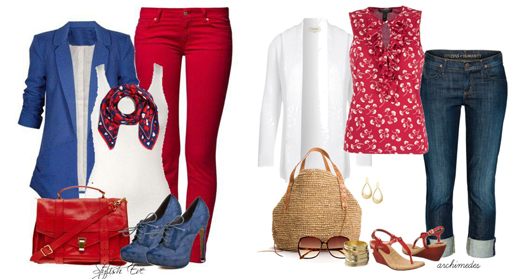 Finally, contrary to what many people think, anybody can wear red. The key is to find a shade that works for you and add it in a way that complements your personality and natural coloring. It's too cool a color not to wear! You'll feel the power of how it can "up" your style quotient when incorporated well.