Being married to a State Trooper, I've acquired a certain level of respect for all things blue.
This season, navy blue is commanding my attention in many new ways. It is timeless, exudes confidence, and says 'perfectly polished' like no other color. It has been a personal thrill to see this sophisticated hue take over the racks of my favorite stores.
Here are 5 fresh spins on navy that I have been using to effectively update the spring (and summer!) wardrobes of my female clients. I hope a few resonate with you and make it easy to put this perennial spring favorite to work in your wardrobe too.
#1 Pump it up with beige. Beige pumps are often the best solution to give conservative navy business separates a stylish boost.

#2 Use it to ground bold colors. Every color under the sun looks great when paired with navy. Yellow is a personal favorite.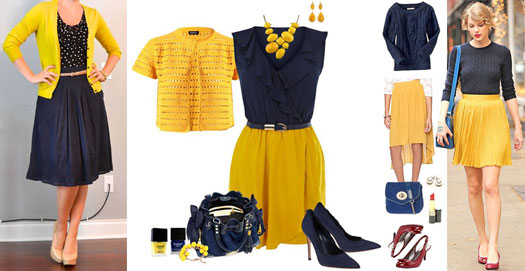 #3 Color block it. While black is often used to frame key colors on jackets, skirts and dresses, navy can step in and take its place, especially when you want to present a lighter look. Navy color blocked bags and pumps can easily update your spring/summer style.

#4 Patterns and prints please! Use navy as the hue that unites two strong prints into one great outfit.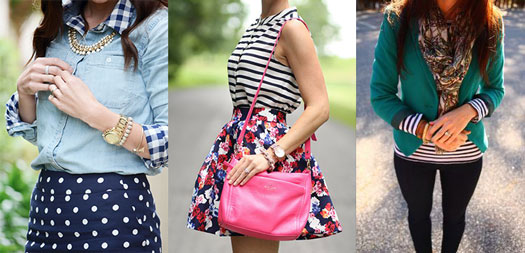 #5 Mix it with black. Timeless and classy, black dresses-up navy while navy makes black more demure. Consider it the power couple of the moment.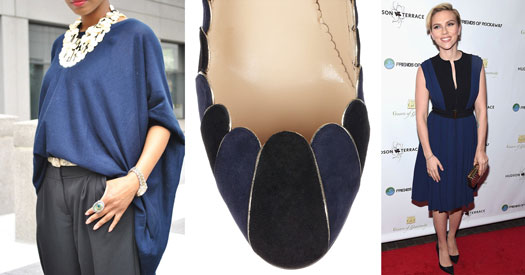 Last Word:
Navy goes with almost any color. Swap out some of your black basics for navy staples in the warmer weather and step out in polished perfection!