Buying a great pair of jeans can be a daunting experience. With the exception of finding a suitable swimsuit, jeans top the list of most stressful shopping experiences for most women (and often men too!). With a multitude of brands, cuts and styles, you may become overwhelmed before you even step in the dressing room!
Here are 5 ideas I frequently share with female clients interested in cutting jeans shopping time in half while arriving home with selections they love to wear:
#1 Set Yourself Up to Succeed. Since visible panty lines will probably not help you achieve the look you desire, it's important to wear proper undergarments when trying on jeans. Stop in the lingerie department on your way to the jeans department if you need to – it's that important! Also, take a few types of shoes with you to the mall. Different shoes work better with different styles of jeans, and it's best to have an assortment handy. This time of year, I suggest that clients slip ballet flats, booties and heels of their desired height into a tote before they head to the mall to shop for jeans.
#2 Know Who You Are. Body type awareness is step one in determining the most flattering jeans for you. If you are fuller through the hips and thighs, boot cut jeans will often give you the right proportion. Paired with some heels and a waist defining jacket or blouse, you'll be wearing your jeans instead of them wearing you. A slimmer frame typically pairs well with skinny jeans, a pointy toe kitten heel and a colorful, silk tunic. Try on a few different styles of jeans if you are unsure of which will look best on you.
#3 The Power of Dark Wash. For a slimming and classic look, choose a dark wash with some stretch. Not only will they feel like your favorite pair of yoga pants (hallelujah), but you will find them to be more versatile for creating different looks. Paired with a blazer and a simple top such as a silk shell, dark wash denim can take you from the office to drinks with friends. Simply change out the earrings and shoes, and you are ready to hit the town.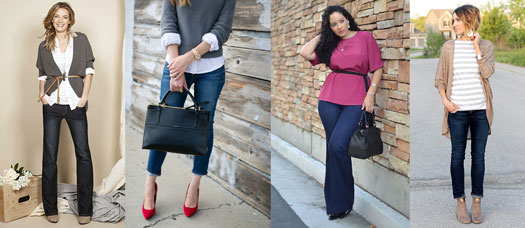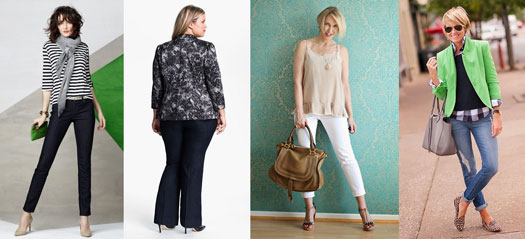 #4 Stick with the Basics. Trendy, colored jeans are not necessary to build a fantastic denim wardrobe. I often advise my clients to stick with dark denim, a fashion forward black skinny, and crisp white jeans for the summer. They sigh with relief knowing that jeans shopping can be this simple.
#5 Plus Sized Jeans. I work with many plus sized clients, and they are thrilled with the numerous options available. Dark wash boot cut jeans, paired with heels and a tailored blazer, is a beautiful look. When considering pocket size, make sure the pockets are not too far apart or too small, for this will create the appearance of a larger derrière. A rule of thumb is if you go wider on the bottom, stick with a tailored, waist defining top. Skinny or straight jeans look great with tunics and less structured blouses.
Last Word
Paired with the appropriate pieces, your denim need not be saved for the weekends only! Don't underestimate what a great pair of jeans can do for your wardrobe. With the right fit, jeans can take you to any venue, from dinner, to a party, or to a daytime sporting event. Modern jeans are the building block of a sophisticated and versatile wardrobe. Mixed with the right shoes and accessories, you can create a look that is both flattering and fabulous!
Editor's Note: For advice about how men can effectively wear denim with sport coats, visit our Q&A archives. We addressed this topic last year and it continues to be a frequently searched question on our site.