Like most New Englanders, I have just about had it with the day-to-day nuisances caused by so much snow here this winter. However, I must say that one of the up sides of this weather for me and my family is the extended ski season we now have. One of my favorite things to do is to pack our family up and head to the slopes. We are all outdoor enthusiasts and, as a stylist, I keenly understand the ease of our trip preparation when our ski clothes are organized and ready to go. Parka? Check. Ski pants? Check. Goggles? Check. Snow boots? Check. Checklists are great.
Yet, when you go on a ski vacation that lasts longer than a day or two, packing can get tricky, especially when you want to dress well for the après ski scene, which is often as memorable an experience as skiing itself. Whether you're hitting the local slopes with friends and family or heading out west or internationally for March break, there is an après ski wardrobe that will fit your budget, taste and personality.
Here are some ideas:
Don't underestimate the power of a great fitting parka. There are beautiful parkas in a variety of colors and price points that can take you from the slopes to the après scene in comfort and style. Many come belted and fitted, giving you a nice silhouette on and off the mountain. An updated parka in a color you love might be all you need to update standard black ski basics that many of us rely on year in and year out. Even adding a black parka with an updated fit is great way to feel extra stylish slope-side.
Start with Neutrals. For your base layers, you can't go wrong with neutral colors like black, grey or cream. For instance, a cream turtleneck sweater will look great with both ski pants and skinny jeans. These colors provide the best canvas for your accessories, too. Try them in a variety of fabrics like wool, cashmere or silk for style (and climate!) control. If you're craving a new neutral, try soft pinks as illustrated in the photo below: very fresh and on-trend. Love it with gray and winter white in particular.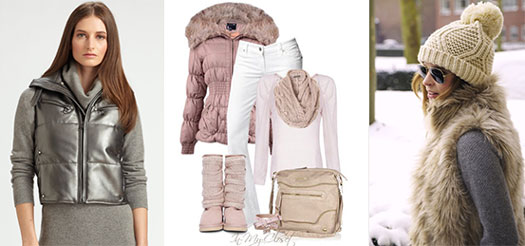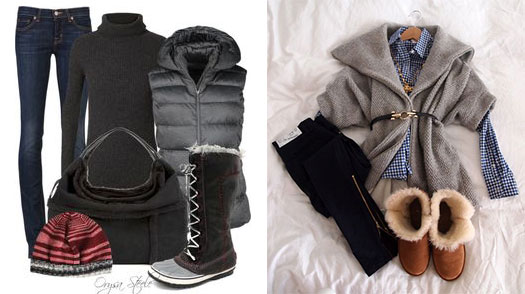 Layer some fun. Adding accessories to your après ski outfit is where your style and personality can truly shine. Gloves, ear muffs, vests and jackets with faux fur are all the rage this season. A scarf or bag in a bold color such as orange can add just the right amount of color to a neutral palate. Metallics are also hot right now. I love the metallic vest layered over the turtleneck sweater shown above. Add a great pair of skinny pants, some fabulous boots and a funky cuff, and you're all set for your night on the town! Beautiful jewelry can also dress up any outfit. Try a pair of chandelier earrings in a multitude of colors to add interest and dimension.
Boots, glorious boots. Finally, boots always complete the après ski look and can ground your look in serious style. There are various styles and heel heights available to fit your budget and comfort. All the ones pictured here fit my current boot criteria: warm, functional and stylish!
Comfortable, yet stylish clothing best describes après skiwear. Gone are the bulky sweaters and the stiff corduroys of years past. Today, the look is effortless with a bit of sparkle. A little bit of thought prior to packing goes a long way in your quest for looking fabulous on and off the slopes. Not only will you build wonderful memories with your family, you will also build a terrific wardrobe that fits your many adventures!