A home improvement project brought me to the paint store this past weekend in search of the perfect shade of gray for our new bathroom. We picked out a few samples, tested them on the walls and finally settled for a shade that made everything in the room fall into place with the intended style. Extra bonus, I can now say I've seen "50 Shades of Gray!"
Whether you decide to see the movie or not, it is fun that "gray" is getting so much "play" right now. Not only is it a box office sensation and hot base neutral in home décor, but it's also a great way to lighten up your wardrobe as we head into spring.
While we love gray with black, camel, red and brown as a way to transition a wardrobe for fall, pairing gray with green, pink, light blue and yellow is a great way to give it a spring twist – even when it's still cold out.

Here are four mid-winter twists on gray for women.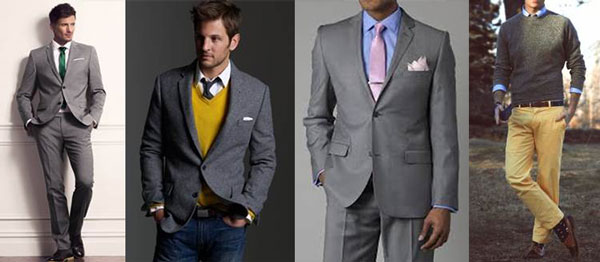 And four for men.

For women, gray booties can also help lighten your look as we weather the rest of winter.

For both guys and gals, gray inspired track shoes can help put a spring in your step.
Finally, many lingerie companies are jumping on the popularity of gray, introducing lines in this soft base neutral in honor of the movie. I'll leave that to your imagination (and own web searches!) but did want to share one Boston-based company doing a nice job with the trend – Vienne Milano. I appreciated receiving a pair of their signature thigh-highs as part of a PR campaign. Their packaging is beautiful and the quality of their hosiery superb. Fun fact is that thigh-highs work really well under slacks when you want extra warmth without panty-lines. In any regard, I am sure glad I can claim to be trending in this area as well – thanks Vienne!
From all of us, here's to dressing well!