For me and my colleagues at Dressing Well, winter and screen time go hand in hand. Catching up on our favorite shows is one way we make it through the darkest days of the year. Added bonus, we're often able to feed our collective fascination with fashion decade-by-decade and often century-by-century. We love sharing our insights with one another too.
In this week's blog, I dissect the distinct looks from my two favorite shows that are currently streaming and share the styles that inspire me the most.
The Marvelous Mrs. Maisel
Season Two of the award-winning Amazon Prime show The Marvelous Mrs. Maisel opens with a location dear to every fashionista's heart—Paris!
Though I don't expect anyone to walk through Le Marais district wearing a hot pink dress, baby pink swing coat and deep crimson hat and gloves as the show's star Midge Maisel does, there is wonderful inspiration in her silhouette and color choices. For instance, fitted clothes are flattering on any shape, with no tiny 1950's waist necessary. Try pairing the currently trendy higher-waisted cropped pants with a fitted button-down shirt and blazer or a button-down cardigan and you'll be paying tribute to an era that really paid attention to the interplay of fit and proportion.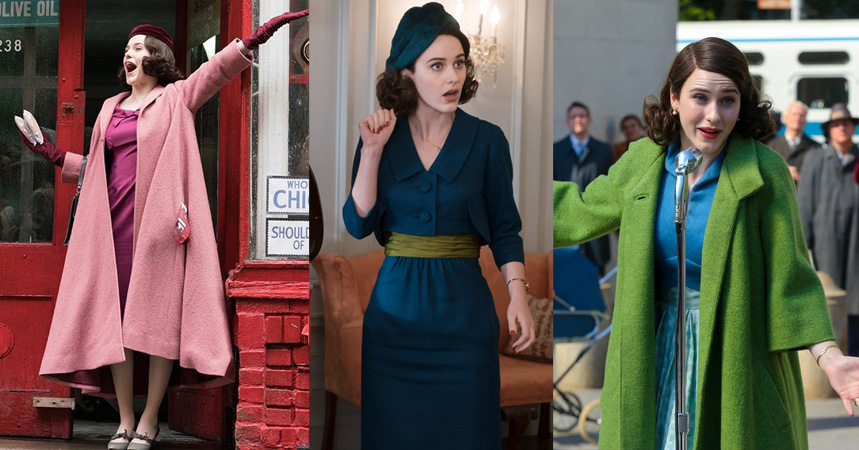 If head-to-toe color isn't your thing, pair neutral capris, in black, tan or navy with a bright top. Take a further cue from Midge's knack for color coordination by matching your gloves and hat in a shade that complements the other colors you are wearing. Even with shoes, coat and bag in neutral tones, your outfit will still be a standout.
Atelier
My interest in Japanese culture spans decades, back to my first visit as a college student. What struck me almost immediately when I was there were the impeccable outfits on the women on the streets and in the subways of Tokyo. So it was my pleasant surprise to find a modern-day show that combines life in Japan with everyday fashion on the Netflix series Atelier.
Set in an upscale lingerie store with in-house designers, the show focuses on its newest member, a young girl who desperately wants to design modern lingerie. While her story line is interesting, keep your eye on the female boss, Ms. Nanjo, who rules her company with an iron fist. (She is a blend of real-life fashion editor Anna Wintour and the movie fashion editor Miranda Priestly in The Devil Wears Prada.) Her outfits are sleek and appropriate for a woman in her 40s, 50s and over, an age group not so commonly portrayed in the fashion industry on the big or small screen.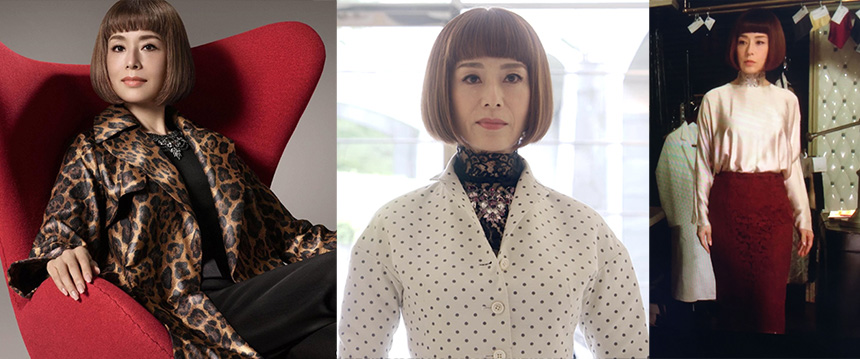 To capture Ms. Nanjo's sophisticated look for yourself this winter, try a light gray turtleneck with charcoal pants topped with a longer, edgy chain necklace or choker; she wears both necklace styles a lot. The key to modeling her look is to keep your outfits fairly monochromatic and sleek. Or try a long print duster coat (she wears a particularly stunning leopard print one frequently) over a dark top and bottom.
On an interesting note, in recent episodes Ms. Nanjo and Midge both pair dark blue with shades of celadon green; the former in a tiered green necklace over a navy turtleneck, the latter in a navy dress with an apple green sash. This unique color combination works on both because they use separates and accessories in each color that are unique to their style and body type.
Parting Thoughts
Despite the 60-year difference in the shows' timelines, what both television characters have in common is the well-thought-out aspects of their appearance, including hair and make-up in addition to clothing. The devil is in the details for sure and it is a pleasure to see the results of their (and their stylists!) efforts play out so well visually on the screen.
While we certainly don't expect our clients to go to bed with cold cream on their face and curlers in their hair as Midge does, we do encourage them to have standing appointments for their hair, skincare and make-up needs and, of course, offer them hands-on help planning their outfits ahead of time. As I watch each show, I can imagine the set stylists hanging the tops, bottoms and accessories of each outfit together on a rack with individual pairs of shoes underneath to help the actresses get ready in a flash. It's a stylist trick of the trade that helps people, regardless of what they do on a day-to-day basis, get dressed quickly and feel confident for whatever the occasion.
Editor's Note: If you'd like to get a better handle on the colors and silhouettes that are best for you, we are here to help. Elizabeth can help you virtually (she oversees our virtual offerings) or our stylist team can visit you at your home for more hands-on assistance. We find that most closets contain some really interesting and unique pieces. Having an expert eye help you combine them in new and interesting ways is a great first step in owning your style. Like binging on shows and movies, getting your closet under control is another great wintertime activity! Just ask Marie Kondo, the star of another popular Netflix show now streaming—Tidying Up with Marie Kondo. While we won't necessarily suggest that you roll your t-shirts and socks exactly as she instructs, we will help your closet spark joy. We welcome the opportunity to share our dressing well method with you!