When I recently attended a middle school production of Grease to see the junior rendition of this tongue-in-cheek look at 1950s teenage culture in the U.S., my eye was immediately drawn to the full-skirted plaid and polka dot dresses worn by the talented 7th grader playing the lead role of Sandy. Each dress was beautifully styled and surprisingly current. I found myself mentally translating the trend for my chic clients who enjoy appropriately incorporating "fashion flashbacks" into their wardrobes.
If Grease is your word, retro-inspired dresses (minus the petticoats of course!) are an easy way to transition into the truly warmer months of July and August, for both work and play. Here are four fresh ideas for wearing this vintage style well while keeping the look firmly grounded in the current moment:
#1 Choose the right silhouette
The most popular '50s inspired dress silhouette has a fit and flare shape – fitted through the bust and waist and fuller through the hips and thighs. This style suits almost every figure and is easy to find in stores during the summer months. Look for tailored details, like darts, and think fitted, not tight. Strapless works for the smaller busted while fuller figured gals should opt for a deeper cut neckline, v-shaped, or square neck dress with straps. If the prominent full skirt of this style doesn't quite suit your figure or style persona, go for the other popular '50s dress shape – the fitted sheath dress. Perfect for an athletic or slim build, it was sported in Grease by Rydell High English teacher Miss Lynch!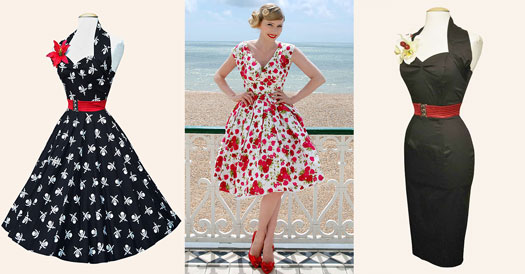 #2 Play with patterns & fabrics
Prints and florals are available in a range of fabrics such as linen, cotton and eyelet. A denim fit and flair dress is particularly versatile and modern. Make a splash at a pool party with a bright stripe in a lightweight fabric or a bold graphic design. Ladylike florals are always a classic.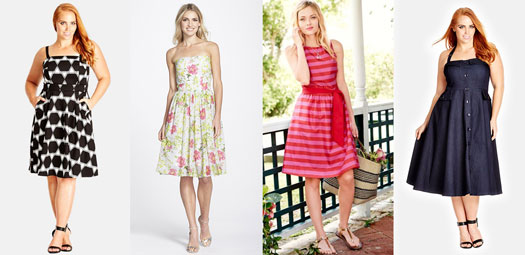 #3 Add updated accessories
Keep your retro look grounded in the present with modern touches. Pastel espadrilles with ankle ties easily coordinate with light fabrics and colors. Bright necklaces, shoes, scarves and totes add a whimsical pop of color. When you need them, sunglasses complete your look!

Make the look your own:
Add a pop of color with this luxurious, lightweight, yellow Palm Springs Scarf for $59;
Get this beautifully blue, roomy Paris Market Tote in your hands for $198;
Leap into summer with this vibrant green Linden Necklace for $96.60 (originally $138)!
#4 Finishing touch
For an office appropriate look, top your dress with a fitted cardigan that's unbuttoned and belted. A tailored jacket, especially in denim, is perfect for cooler evenings. The more daring can instantly be edgy with a motorcycle shaped jacket over their "girly, girl" dress!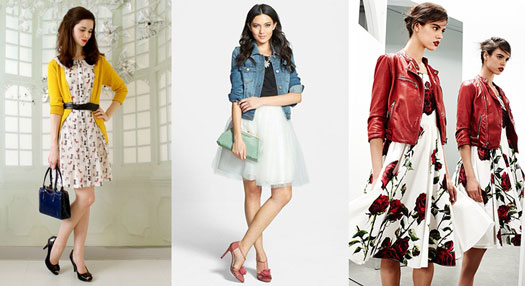 Final Word (& photo!)
Whichever silhouette you choose, keep in mind the carefree spirit of the musical when getting dressed and have fun with your summer look!