Fall is off to a great start here at Dressing Well. Our consultants are busy working with their private clients and our workshop and speaking schedule is in high gear. We are truly blessed to be doing work we love.
Of course our fall is never truly underway until our annual "Top Ten" fashion picks for women are selected and posted. This ritual began over 20 years ago when we launched our Dressing Well snail mail newsletter. (Yup, there was no internet back then and we were primarily working only with women!) It was instantly popular and is now the most frequently visited section of our website.
We decided to place our list in our blog this month to encourage an interactive discussion. Guys, we welcome your fashion input and questions too! Please scroll down to the comments section of this blog and let us know what you think.
#1 Burgundy & Navy
Get a command on fall with these two rich hues.

#2 Culottes
A happy medium between full skirts and flared trousers. Their signature length makes them easy to coordinate with a variety of footwear.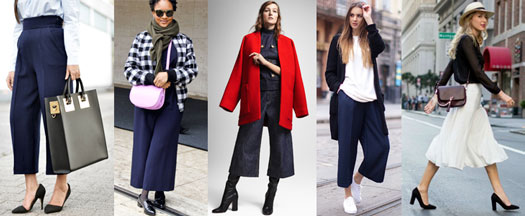 #3 Fringe Accents
Long popular as an accent on bags and shoes, everything from sweaters to jewelry to evening wear is now getting in on this 70s fashion inspiration.

#4 Corseted Belts
No easier way to accent (or create!) the perfect hourglass silhouette.

#5 Versatile Long Vests
Can replace a jacket in many business environments while working overtime with skinny pants and jeans.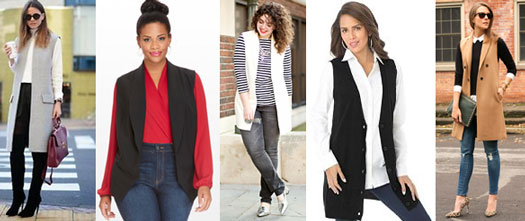 #6 Short Over Long Silhouettes
The crop top trend continues with shirt tails peeking out under short sweaters and short tops sitting on top of long, full bottoms.

#7 Capes
Always great as outerwear, some also make a significant style statement indoors this season.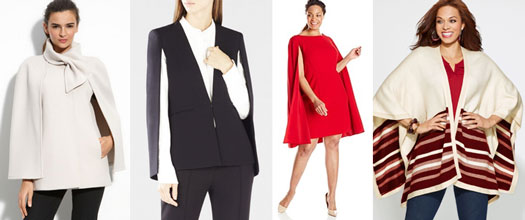 #8 Stacked Heels
Three great reasons to wear them: sturdy, stable and comfortable!

#9 Edgier Pearls
Typically thought of only as a conservative choice, this season's pearls get strung in new ways!

#10 Backpacks
Finally, every designer at every price point has put their signature spin on this fun trend. They're certainly not just for students anymore!

Click to Share:
© 2015 Organization By Design, Inc. / Wardrobe Management & Fashion Consulting
No portion of this article can be used without permission.
Contact info@dressingwell.com if you would like to discuss our dressingwell.com syndication program.