We love the color red and are always looking for new ways for clients to wear it well.
In professional situations, we often treat it like a neutral for women, grabbing red jackets, skirts, pants, blouses, dresses, shoes and bags that are appropriate for business to give a pop of color to what is often an otherwise fairly dark wardrobe.
Where I personally have the most fun incorporating red into a wardrobe is with evening wear. Coordinated well, it can be bold, sexy and eye-catching all at the same time.
When one of our fashion-forward New York clients recently needed something to wear to an annual breast cancer awareness benefit sponsored by her company, we shopped in her closet and pulled off a fresh look by pairing a slightly cropped, hot pink sweater with a full-length red taffeta skirt. Gold jewelry, sandals and a clutch were the perfect finishing touches to keep the look soft and pretty. It was perfect for a Tuesday night in Manhattan and helped her stand out in a crowd wearing all pink.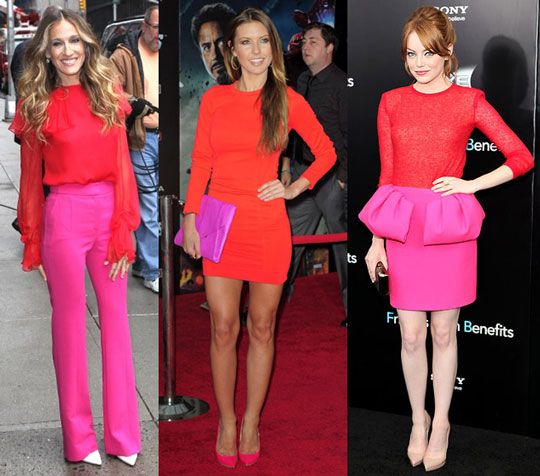 Some celebs who wear this trend well.
My advice for all you Fashionistas out there looking for a fresh spin on red this Valentine's Day weekend is to grab something feminine and fun in pink, pair it with red and knock his socks off! (And… for the site visitor who wrote in to ask if we think it is stylish for men to wear red socks to evening events, our answer is not so much. We are not fans of red socks on any male human over the age of 3 – unless they're Santa Claus!)
Happy Valentine's Day!