Recently, I had the privilege to present one of our signature workshops, "Your Visual Resume," to a group of students at a local women's college. The students were fantastic and eager for advice on how to navigate the tricky wardrobe transition from classroom to office.
Now that that the caps and gowns have been put away and the focus for many college grads in our midst is on job hunting, I thought I'd share the top five tips from my presentation that resonated the most with this group of students. Feel free to use them as a refresher course for yourself and/or share them with young women that you think would benefit from this super simple (and cost-effective!) guidance.
#1 Invest in 4 key "mix & match" pieces. Capsule dressing (a.k.a. purchasing suiting and separates from the same manufacturer using the exact same fabric and dye lot) is an easy and cost-efficient way to build a base wardrobe. The four pieces we recommend are a jacket, dress pants, simple sheath dress and either a pencil or A-line skirt. Add blouses, shirts and shells with modest necklines to complete professional looks with the pants and skirt. To keep your first impressions classic, black, navy, or gray suiting in year-round fabrics is ideal. Lighter suiting in the warmer months can look smart and fresh, too. Get these essentials in your closet pronto and you'll not only be interview-ready, but off to a great start for dressing well each day when you do land the job!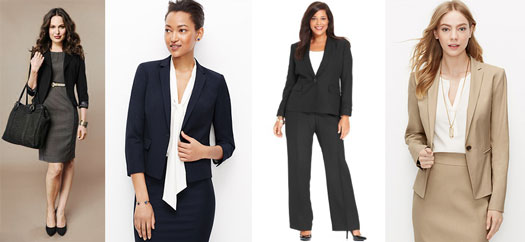 #2 Understand retail sizing and the styles that work best for your body. Not quite sure what size you are or what brands work best for your body type? Take a trip to the mall without your wallet and try on things in a variety of stores, brands and sizes. Fit and fabric are critical for creating a strong, professional presence, so go the distance to be sure everything you plan to buy is flattering and office appropriate. Are you petite, plus-size, short-waisted, extra tall – or maybe a combination of sizes? Find a store/brand that works well for your body (and your budget!) before you spend a dime. Brand loyalty and knowing your retail sizing can help take the guesswork out of shopping and save you from making mistakes at checkout. This is step number one for being a life-long smart shopper! 


Extra Tip: Read Mary Lou Andre's blog post "Four Good F Words" for a great lesson in fit, fabric, function, and flair. You will think differently about your clothing choices!
#3 Ground yourself for business. Footwear can make or break an outfit, but it doesn't have to break the bank. Always put your best foot forward by making sure your footwear is in excellent condition and extra comfortable, regardless of what you paid for it. While I personally love a good high heel, there is nothing professional about wobbling around on slim stillettos (or not being able to smile because your feet hurt)! A kitten or modest wedge heel can enhance your horizontal look just as well as higher heels while helping you make a great entrance. Start building a solid work shoe wardrobe with neutral pumps in a variety of heel heights and styles that work for you. While peep-toed pumps can be professional, a closed-toe shoe is typically a safer bet for interviewing. A sling-back pump (a pump with an open back and a strap) can be a happy medium.
Extra Tip: In addition to being comfortable, a good commuter shoe (think ballet flat or simple wedge heel shoe) will save your better footwear from wear and tear while traveling to and from an interview or job. The students I spoke with really loved this tip so I wanted to share it with you, too!

#4 Don't make outerwear (and totes!) an afterthought. The details matter in every way when you're planning an interview and career wardrobe. Invest in a great 3-season trench coat (hood and removable lining a plus) and a terrific tote (shop discount stores and sales for polished perfection at a great price) to complete your look. Always have an umbrella handy too. Simple yet functional pieces that help you create a professional image show that you are organized, have common sense, and are respectful in all your interactions. By investing in yourself, you invite others to invest back in you – it truly is that simple!
Extra Tip: In addition to shoes and totes, jewelry is another detail that you don't want to underestimate. The style and placement of jewelry can finish your look while framing your face and enhancing your communication. Read my colleague Kathy Smith's jewelry post for a great overview on how to build a functional jewelry collection.

#5. Groom yourself for success. Don't go to an interview, internship or to the office with wet hair, chipped nail polish, flip flops or a fleece jacket. Keep distractions at bay by rocking neutral and sophisticated nail polish colors, and find easy hairstyles that are minimal fuss to allow you to get out the door with ease. And of course, beware of necklines and hemlines! Take your clothes for a test drive before you wear them. Can you sit, stand, and move your arms comfortably? A great rule of thumb—consider you might run into the president or CEO of your company each day. In my early years in an administrative role, I was often running errands to the president's office of our organization. You never know when you'll get a chance to make a great first impression!
Last word
Your absolute best accessories? Eye contact, a smile, and a firm handshake. Take the guesswork out of your wardrobe and focus on your work relationships and goals. Best of luck to our new grads!
Editor's Note: With her impeccable fashion savvy, keen wardrobe-building knowledge and ability to relate well with young people, Sarah is a hit on college campuses. Please contact us if you'd like more information about how Sarah can share our message with your students. In addition, all members of our stylist team are available to help young people build truly beautiful starter wardrobes. Our popular "Professional Jump Start" gift certificate is available in our online store. We work with both men and women and the results are immediate (and amazing)!