Wikipedia terms athleisure as "…a trend in fashion in which clothing designated for athletic workouts at a gymnasium, sometimes termed activewear, is worn outside of the gym to go to the office or shopping or other social occasions." It has arisen from women (sorry guys, but mostly women) choosing to wear yoga pants outside of the gym and coordinating them with their existing wardrobes, both casual and dressy.
With our busy lifestyles, I think the trend is brilliant as it allows us to expand our idea of casual clothing while maximizing what many of us already have in our wardrobes. Retailers such as Lululemon, Athleta and Lucy are my go-to stores for helping clients master the art of athleisure wear. I know I have certainly aided in their mega growth over the past few years!
Here are five fun ideas for women (and one idea for guys!) interested in wearing this trend well:
#1 Fitness First
As a fitness instructor, you will almost always see me in various states of altheisurewear. My casual or weekend "uniform" consists of leggings, a comfortable tunic top, a great scarf and some large hoop earrings. I will pair this outfit with tall boots or ballet flats, depending on the weather. On a rainy fall day, I'll pull out some fun rain boots, add a lightweight shell and will head out the door to my various activities.
#2 The Devil is in the Stretch
Thankfully, leggings and stretch denim are not going out of style any time soon. Women are rejoicing that lycra can be both stylish and figure flattering! Best of all, we don't have to bring our entire closet to the gym post-workout before we head out to meet a friend for lunch. Just pay attention to visible panty lines. Lycra is form fitting, so make smart undergarment choices. Regardless, the basic rule of thumb is a longer, tunic top with leggings and a more form-fitting, shorter top or blouse for the baggy track pants.
#3 Start with Versatile Basics
Typical althleisure pieces are leggings, track pants, track jackets, colorful sneakers and clothing made from breathable fabrics with added stretch. I have worn a black, strapless dress from Athleta with heels, a cropped jacket and jewelry out to dinner with friends. That same dress was worn with flip flops, a large sun hat and sunglasses for a day in Maine with the family. Track pants with flats, a t-shirt and scarf is a great choice for a busy weekend. Take those same track pants, add a pointy toe kitten heel, a silk shell and a tailored cropped jacket or vest, and you are well on your way to a meeting with a client.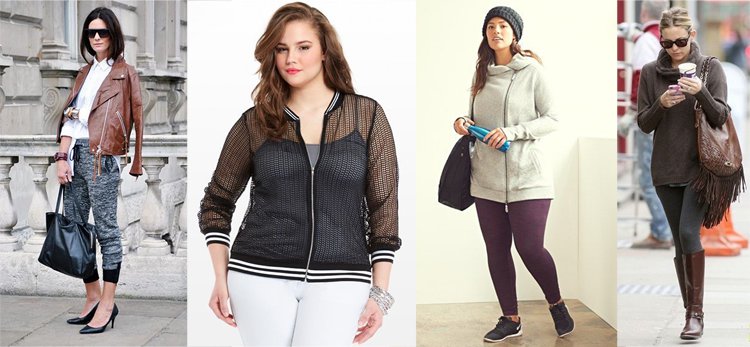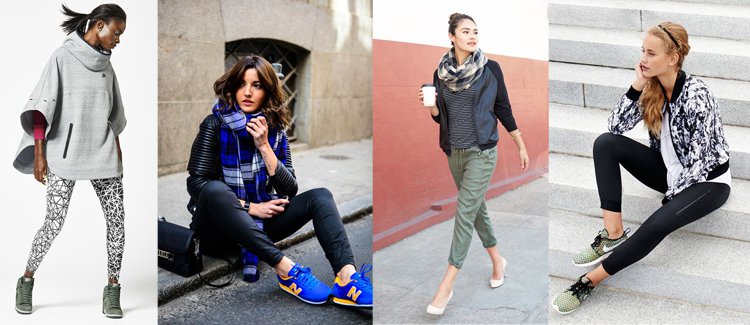 #4 Transform with Accessories
Accessories are a key way to transform your gym or yoga workout wear for something more stylish and appropriate. Add a pair of earrings and a colorful scarf or tote after your yoga class and you have a perfect ensemble for lunch with your girlfriends.
#5 A Twist on More Conservative Dressing
For those of you who work in a more conservative environment, taking one piece from this style and incorporating into your typical outfit may be the way to go. My choice would be a track or bomber jacket. There are beautiful colors and fabrics available and paired with a pencil skirt, silk tie blouse, hosiery and pumps, it's the perfect addition to add some dimension and modern flair to your wardrobe.
#6 Men – You can celebrate this trend too!
For men, tailored sweatpants paired with sneakers and a sweatshirt is a trendy way to transform your weekend wear from jeans and button downs to a more modern look. I understand not all men can pull off this look, as it does cater to the younger Gen Xers, but I ask you to think outside the box when it comes to dressing on the weekends. Perhaps just a pair of fun sneakers or an updated track jacket will give you the sporty look you desire.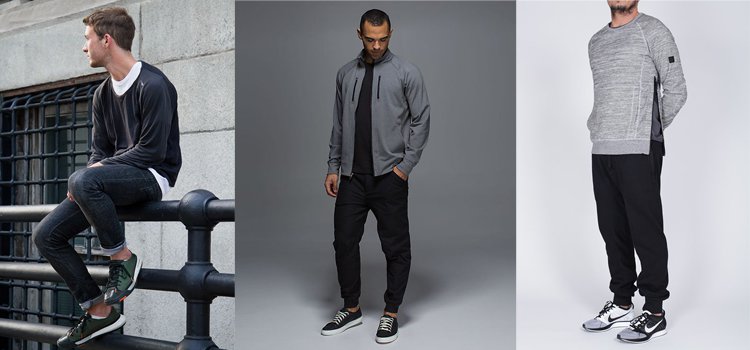 Parting Thought
The best thing about athleisurewear is that it will hopefully inspire you to become more active throughout your day. That, we can all agree upon, is a great thing!