While word on the street in some circles is that traditional pantyhose are history, we could not disagree more. The "executive presence" discussion regarding all types of hosiery has as much to do with industry, company, ethnicity, situation, age, leadership goals, body type, personal style and, of course, common sense than what is "trending" at the moment.
When chosen well (yup, ditch any "nylons" with a 1970's orange tint!) and coordinated with suiting, business separates and formalwear made of fabrics that nicely connect to the lighter look and feel of its fabrication, pantyhose can help you:
create business boundaries with key stakeholders
communicate respect for yourself and others
add significant polish to your overall look
Modern pantyhose are designed to help with all these desirable professional objectives while also helping to smooth the body in all the right places. As a professional in charge of your own personal brand, you need to decide when (and what type of) hosiery is right for you. For the purpose of this article, we will be talking about two primary types of professional hosiery: pantyhose (aka modern nylons) and tights.
It's all About Options (& Brands)
Admittedly, we have many stylish and sophisticated women in our midst who regularly forgo any type of hosiery from May to October. Many are blessed with skin that looks great without hosiery. Others go the distance with personal grooming routines (and expenses!) to give them flawless skin. When non-hosiery looks that combine stylish clothes with appropriate hemlines and footwear is thoughtfully selected for business, a fashion-forward persona is established that can give the wearer a competitive edge, especially when working for hip and creative brands.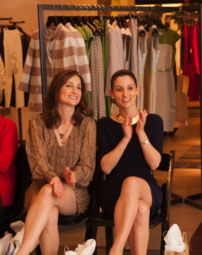 Dressing Well Stylists Carolyn Lieberman and Sarah Zengo look extra polished and professional wearing "modern" pantyhose at an early spring firm fashion event.
I personally coach a handful of beauty industry professionals that fall into this category. They are a smart and sophisticated group ranging in age from 35-65. They travel all over the world where non-hosiery looks are standard year-round so having many stylish, business appropriate, non-hosiery dressing options is part of their overall dressing strategy. However, they still understand the power (and appropriateness!) of pantyhose for many professional situations (especially in the US) and regularly put them on for important meetings as they grow their careers through boardroom interactions and presentations.
The Donna Karan nude collection of hosiery is what we often recommend for women (including women of color) looking for a hint of coverage with a flawless finish. Both Hanes and Calvin Klein offer more cost-effective options that have a similar sheen. Many mall stores such as Ann Taylor and Talbots offer nudes that fit a variety of body types while also providing superb coverage and polish without breaking the bank. Another key aspect to today's more flattering and comfortable pantyhose options is the fabric content of both the "panty" and the part that covers the leg. Those made with a percentage of spandex and/or Lycra in addition to nylon throughout are more comfortable, sheer and flattering. They also tend to last longer when well cared for than those made of 100% nylon.
In addition to nudes, we regularly recommend black, off-black and various shades of sheer gray pantyhose in the cooler months. The key to wearing any shade of pantyhose well is how each connect to the fabrication and color of the rest of an outfit. While there are certainly other pantyhose colors suitable for work, most of the professionals we work with prefer sticking with nudes and blacks. Adding gray is enough of an appropriate style statement for many!
Tights: A Happy Medium
When it gets cold, women who do not like to wear pantyhose at all slip into pants or wear dresses and skirts with tights. The main reasons cited are comfort and warmth, although some do say that they feel frumpy in pantyhose any time of year. When paired with other cool-weather fabrics, tights can be very professional in both business casual as well as business formal environments. Think knit dresses with tights and suede pumps (or boots or booties if you are more edgy in your approach to style) to visually picture how to make tights work for you professionally. As long as they are not too distracting or "sexy," patterned tights can offer extra style when well-coordinated.
After October 1st, we encourage most of our clients with a seasonal temperature change to ease back into their hosiery of choice. Some like to put pantyhose back on in September which makes sense too. It does start to cool down and there is definitely a "back to business" vibe in the air. May 1st is the other "hosiery" date we share as the approximate time when bare legs and pantyhose start to work better than tights. If you feel your personal best in pantyhose all year long, by all means, carry on!
Personal Parting Thought
I presented at a conference in June wearing a conservative yet stylish dress that landed at my knee, a light-weight black jacket, fabric pumps with a patent heel and my favorite brand of nude pantyhose. Even though it was warm, the conference was indoors and the air-conditioning was blasting. Not only would I have been freezing, but I would also have felt ridiculous not wearing pantyhose. I was at the front of the room and did not have my summer tan going yet. Because I felt good with the way I put myself together, I had better energy and was able to connect with the audience at my best level.
Even though I personally prefer tights in cool weather and bare legs in warm weather, reaching for pantyhose is easy when I have the right brands in my arsenal and I have a good sense of what my day entails. An organized and thoughtful approach to style saves me every time!