One of the most popular male fashion questions we are asked during executive image seminars and private coaching sessions we conduct revolves around who should (and shouldn't!) wear skinny suiting.
Everyone (including women who pride themselves on advising men about proper business attire) seems to be curious about whether the look reads "young and silly" or "stylish and sophisticated." The conversation tends to start off lightheartedly (people have lots of things to say about very skinny suits!) yet quickly leads to a more thoughtful dialog about the importance of dressing in a way that is appropriate for your age, country of origin, body, industry, travel schedule and career objectives.
The devil is in the details when it comes to purchasing men's suiting. There are definitely different shopping standards for European businessmen versus their American counterparts. Europeans tend to wear their suiting slimmer in general. This style is largely expected and respected by American colleagues, clients and business partners no matter whose turf they are on.
For American male executives looking for help selecting modern suiting that flatters their physique and enhances executive presence while still honoring a more standard cut to business attire, here are 7 shopping practices to help you fit in (while standing out!) in all the right ways at home and abroad:
#1 Skinny vs. Slim. Most American men wear their clothing too big. While it's not recommended to go super "skinny" in the suiting department like many Europeans and Hollywood actors do (yes, it can read "young and silly" if you take it too far in most business settings), there is a happy medium that allows you to look "stylish and sophisticated" both in the United States and when you travel for business internationally. The trick is to opt for a "slim" silhouette that follows the natural lines of your body. As a point of reference, a well-fitted jacket or sport coat should feel slightly constrictive no matter your weight. Jackets (even if described as sport coats) are not meant to play sports in! As an indicator of proper fit, you want to be able to button and unbutton your jacket while standing with your arms at your side. The key is for all jackets to be fitted without being too tight when they are buttoned. If they hang straight from under the arm to the bottom of the jacket, they are too big or poorly tailored. You want the waist of the jacket to be tapered (aka "curving in" on both sides), creating a natural silhouette through your torso.
#2 Custom vs. Altered. While custom-made suiting is a good option if you can afford it, skilled tailors can adjust off the rack purchases to near custom standards. For instance, when buying a jacket, be sure you get the shoulder fit nailed down first. If you have to go up a size to properly fit your shoulders, the body of the jacket can be more easily slimmed. If you need to accommodate a full chest, seams can be let out and resewn. Pay attention to the rise (the distance from the waist to the crotch) on pants, too. To avoid extra billowing fabric that will detract from a more fitted look, opt for pants that have a lower rise. You might have to try several suits on to get one with pants that can be altered to perfection. There is only so much a tailor can do to adjust the rise of a pant. Some suits are sold as separates which can be a good option. Sleeves and pant hems are the easiest adjustment to make, so don't pay attention to them until everything else is working.
#3 "Rules" for Pleats & Hems. Pleated pants add extra weight around your waist and hips, so it's best to eliminate them from your wardrobe if you're after a slimmer, more modern fit. While pleats are making a comeback in some fashion-forward circles, a flat front gives a sleeker look and eliminates pleat guess work in term of what jackets, shirts and the like you pair with them. We are often thanked for encouraging a "flat front only" mentality for the clients we serve. It is an easy rule to shop by (and live with!). Cuffs on pants only go with pleated pants so "plain bottom" hemming is the only way to go with flat fronts. The proper hem will create a slight break in the front and cover half of the heel of your shoe in the back. You definitely don't want to be able to see your socks while you are entering and leaving a room. Many overly slim suits and pants do just that, placing a less than desirable focus downward instead of helping others more readily connect to what you have to say.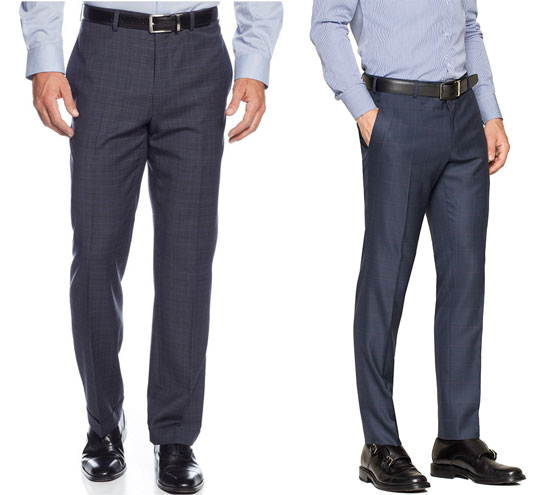 #4 Jacket Length Matters. Men's suiting is sold in regular, short and long cuts. Test-drive several sizes within the same brands to land on your best fit. We have many clients who wear a long in one brand and a regular in another. In our opinion, too long is just as dated as too baggy. The bottom of your jacket should land at the bottom of, well, your bottom! (Or slightly higher.) Longer suits and jackets often have too many buttons, another dated look. A two-button, fitted jacket is the way to go. This style jacket also works well with jeans.
#5 Dress Shirts Need Attention Too. Many guys wisely opt to get new dress shirts to rock their new suits and jackets and pants. If their suiting was too big to begin with, chances are pretty good that their shirts are too big also. With flat front pants, there is less room to tuck in shirts that have an abundance of fabric. A slim jacket will sit funny on top of a shirt that is too big and billowy. Whether you buy new shirts or have your own altered, be sure the neck, body and the sleeves are all fitted. While not the only option, a modest spread collar is typically flattering on most men and enhances the overall modern look and feel of slimmer suiting. A button-down collar with a modern suit can look out of place. We recommend saving button-down collars for more casual looks. (For more advice about choosing the right dress shirt, check out our "Shopping for Dress Shirts" Q&A.)

#6 Rethink the Finishing Details. A more fitted silhouette on suiting means that the accessories you choose to sport will be more on display. For instance, if they did not before, the sleeve length of your jacket should now expose about a half-inch of shirt cuff beneath it, giving cuffs links and watches more prominence when worn. A fitted jacket with a slim cut dress shirt that tucks cleanly into a flat front pant will make belts more noticeable too. A slimmer cut pant that is hemmed without causing "pooling" around the shoe will call out your footwear in a new way. Many men who originally may have wanted to stick with conservative styling tend to be more open to adding cuff links, statement watches and more fashion-focused footwear and socks once they start feeling the power of more fitted and stylish suiting. This is truly when executive presence in terms of appearance and style starts to head in a new direction. When you start feeling more comfortable in your own skin, you exhibit more energy, confidence, resonance and vision. Very cool outcome.

#7 Don't Make Outerwear an Afterthought. Finally, when you update the fit on your key wardrobe essentials, carry it through in your outerwear too. Oversized coats look clownish and can detract from an otherwise sophisticated and modern approach to style. Look at briefcases, computer cases and other totes with new scrutiny too. The man who comes across as polished and pulled together always has a leg up on how first and lasting impressions are made and sustained.