Today's winter wardrobe is no longer limited to the blacks and browns of years past. This time of year, many of us are yearning for a softer palette that mentally gets us focused on warmer months ahead. Here are 5 easy-to-implement ideas to help add soft pastels to your winter wardrobe:
#1 Gray: The Perfect Backdrop
Although black, navy, brown and camel can all work with pastels, gray is the perfect backdrop for the fresh pastel colors available today. Visit your closet and see what you own in gray. If you need to stock up on this terrific neutral, hit the stores. There is no indication that its popularity will wane anytime soon, so investing in a few core gray pieces to wear with pastels now and other colors, prints and textures come spring is smart. Winter white works wonders with pastels too. Albeit, not as practical a choice as gray for obvious reasons.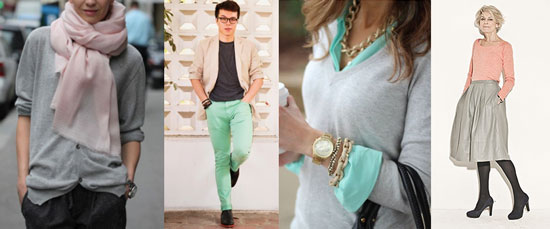 #2 New Outerwear Might Be All You Need
The easiest way to refresh last year's winter wardrobe is to purchase a new coat. Since you'll be wearing it daily and it's the first thing people see when you walk through the door, it's a sophisticated way to play with the pastel trend. Consider making a statement with a ballet pink or baby blue coat. Both of these hues look beautiful with black, grey, camel and denim, so any neutral you already own will instantly look more modern. Choose a style that best reflects your lifestyle. Puffer, wool, shearling and faux fur style coats and vests all carry pastels well. Add a coordinating scarf, mittens and hat and you have a beautiful winter ensemble to not only brighten your wardrobe but also your complexion.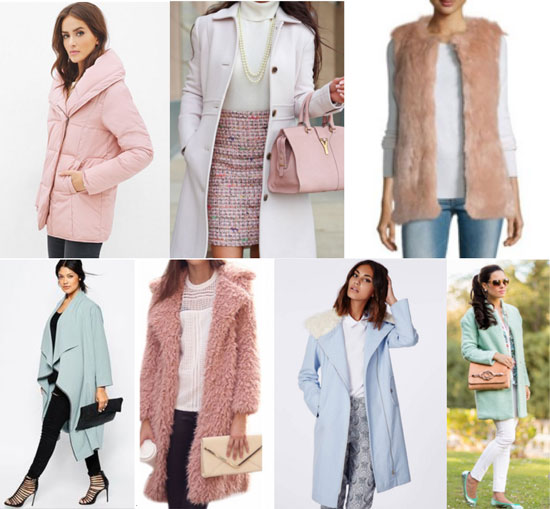 #3 Expand On Your Notion of Monochromatic
We love creating monochromatic looks for our clients. How about taking this to the next level and playing with different shades of one or two colors? A red dress can take on a dramatic new look paired with a pink sweater or lace blouse. Try a lavender blouse with navy dress pants and add a colorful scarf. A mint green wool coat over a black cashmere sweater and winter white dress pants is a classic and fresh look for your weekday wardrobe. Men: soft blue, mint and pink dress shirts look similarly fresh and modern when paired with ties that are close in color to the shirt you are sporting.


#4 Refresh Your Eveningwear
You'll see soft pastels in everything this season, from quilting, leather, lace, wool and silk, in practically all fabrics and textures. Therefore, a silk chiffon evening gown in blush pink or a shimmery, quilted baby blue skirt paired with a formfitting top can be stunning when coordinated with gold or silver strappy sandals and sparkling chandelier earrings. Men, your eveningwear can also be softened with pastel accents. You will truly make a statement and stand out in a sea of black cocktail dresses and tuxedos.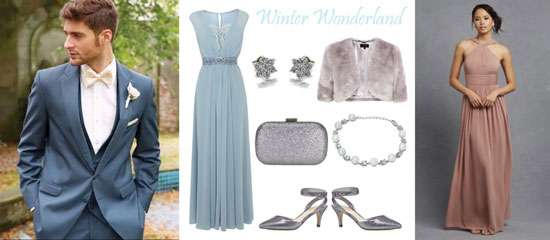 #5 Up the Ante with Candy-Colored Accessories
Pastel jewels look stunning against a grey cashmere sweater. Soft yellows in chandelier earrings or a silk scarf against a grey textured sweater add beautiful dimension to your business attire. Suede boots and shoes in shades of pink or purple are stunning with an all-black or grey outfit. In addition, grey footwear grounds pastel outfits particularly well. Pay attention to legwear when you are wearing winter pastel dresses or skirts. Due to its softening effect, gray hosiery can be your answer when you need hosiery to complete a winter pastel look. Be sure to thoughtfully piece together each outfit that contains pastels so it remains light and fashionable. The completed outfits below illustrate how to do that well!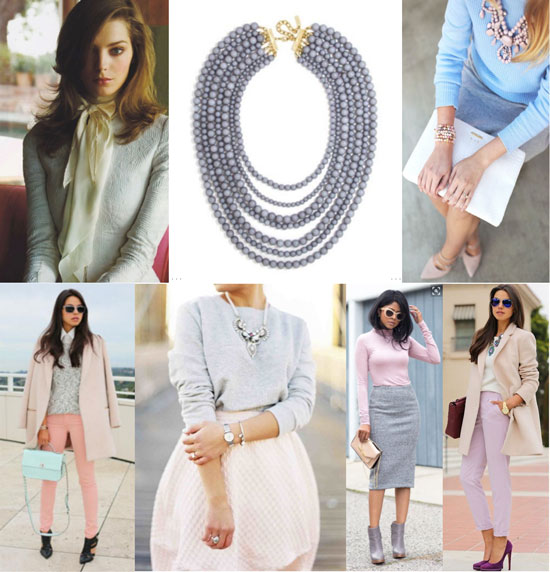 Last Word: Borrow from Your Spring Closet
Finally, before you spend too much on your quest to add pastels to your winter wardrobe, head to your spring closet first. Evaluate if there are any pastel pieces in there that will layer well with what you have in your winter wardrobe to give yourself a pastel fix without breaking the bank!