Sample Professional Image Guidelines
for Men
---
Shirts — The centerpiece of formal male attire
The shirt sleeve cuff should be loose and extend to the end of your wrist.
If your shirt has a button on the sleeve above the cuff, button it.
Having shirts professionally laundered is a sound investment.
Collars — Most formal to least formal
Contrast collars
Tab collars — should be worn with a tie.
Straight collars — ideal for interviews
Spread collars — ideal for interviews
Button-down collars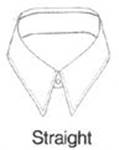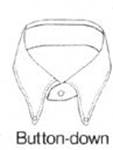 Ties — Add signature style
The smaller the pattern and the darker the tie, the more authoritative the look.
The point of your tie should lay over your belt buckle.
Suits — dark neutrals are the most traditional and versatile
When buttoning the jacket of a three button suit, fasten the top two buttons.
A double breasted suit should always be buttoned when standing.
Trousers — ground your look for business
Fit is everything. Too big or too tight throws off the balance of your overall image.
Pant hems should clear the shoe heel, but rest on the front of the shoe, creating a slight break.
Socks — it is never a good idea to go sockless in a business setting
Dark socks such as navy, black or brown are best.
Over-the-calf socks are much better than shorter styles.
Shoes — putting your best foot forward makes sense
Best shoes for business are wing-tips, oxfords and dress loafers. Wear wing-tips with traditional suits — oxfords and dress loafers with more casual looks.
For many men, shoes are an afterthought, but cheap or uncared for shoes can ruin an otherwise polished appearance.
Wing-tips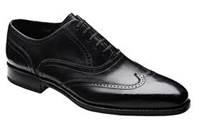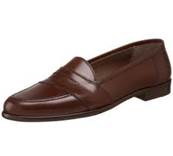 Loafers
Outerwear
An all-weather (i.e.trench) coat and a well-maintained briefcase/tote are essential finishing pieces for most business outfits. Select a good quality trench coat with a zip-out liner so you can wear it year 'round. You are often wearing a coat when you meet someone for the first time. Make sure this is one of the best items in your wardrobe.